2017 Strudengau Open powered by Anders Golfen – recap day 1
Michl | 8. September 2017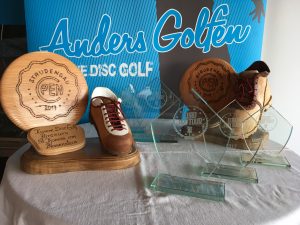 After the first day of competition at KUMM Disc Golf Parcours local female top athlete Sonja Palmetshofer leads the FPO division mip and tuck with three time Strudengau Open Champion Natalie Holloköi from Switzerland with a score of +5. Czech Republic's Eva Kralova is four strokes behind in third place.
Local young gun Laurenz Schauerhofer crashed the expected scandinavian party at the top and leads the tournament after round 1 by two strokes on -8 in front of Tomas Rosenqvist (SWE) and Ben Wiel-Lake (NZL), both on -6. Hungary's top player Dani Hatvani sits in fourth position right ahead of last year'S champion Juho Parviainen from Finland.
Juho Väsiänen took the win in our unique distance accuracy contest. His best drive landed just 120cm away from the target 200m off the tee. The prize money of 200€ for this contest was sponsored by KUMM Disc Golf member Christian Buchberger, who specially flew in from Dubai to be on site just for this event.
Tomorrow the first group tees off at 9:30. MPO lead cards starts at 11:45 followed by the FPO feature card at noon.
The prize giving ceremony on sunday has been antedated to 15:30!